令和4年度 国際交流助成受領者による国際会議参加レポート
受領・参加者名

廖 浩翔
(大阪大学 大学院工学研究科 物理学系専攻)

会議名

SciX 2022

期日

2022年10月2日~7日

開催地

Northern Kentucky Convention Center, Kentucky, United States
SciX 2022 was held by Federation of Analytical Chemistry and Spectroscopy Societies (FACSS). The spectroscopy used in analytical chemistry included Raman spectroscopy, laser induced breakdown spectroscopy, infrared spectroscopy, fluorescence spectroscopy and mass spectrometry, etc. The research topics included chemistry, biochemistry, pharmaceutical and food industry observed with the spectroscopy mentioned above, and instrumentation and development of technology of these spectroscopy.
(a) View of Northern Kentucky convention center
(b) Poster of SciX 2022 in CVG airport.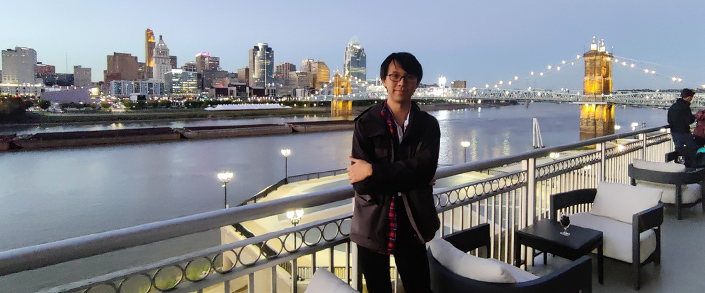 View from the event hall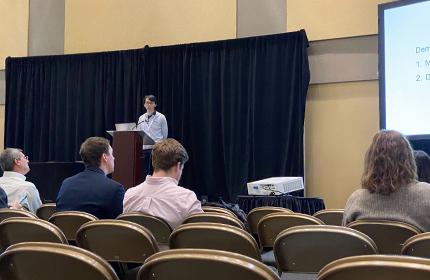 Presentation at SciX 2022
The title was "Development of A Multifocal Spot Raman Spectrophotometer for High-Throughput Biological and Chemical Screening using 96 Microplates." We developed a system for high-throughput Raman screening, which simultaneously excite 96 samples separated in 96 wells microplates and collect Raman signal from them. I showed ability of the system, such as ability of 96 wells measurement, uniformity excitation power of 96 focal spots, spectral resolution of the system; and demonstrations of the system, such as monitoring of crystallization kinetics and searching for crystallization conditions and observation of fatty acid accumulation and cell cytotoxicity under different fatty acid concentration. In those demonstrations, multiple conditions were measured simultaneously. Therefore, we can claimed the system can be a practical platform for high-throughput Raman screening.
In the presentation, I got some questions about the Raman measurement with the system, such as the effect of disperse of spectra at the edge of camera and Raman background from the substrates. About 150-200 people listened my presentations.
I met several researchers that worked on the theme highly relative to my research and got more information than those writing on the papers they published. I also come up with some ideas that can used in my research and my paper under preparation. Besides, after my presentation, a professor visited me and my supervisor to discuss about my system and the system developed by that professor. I learned and came up some ideas from their system. I also be invited to be a exchange student or be a postdoctoral researcher after getting PhD degree. I gave my presentation in a big hall with other researchers. Many of them were great researchers in the field, and it made me very nervous. It was a great experience for me. From these experience, I felt attending face-to-face conference is essential to build a network and coming up with new idea. Due to the COVID-19, there are many conferences that have become online conferences. This was my first offline international conference and I learned a lot at the conference. I am grateful to the Marubun Foundation for supporting my travel to the conference.

令和4年度 国際交流助成受領者一覧に戻る