令和元年度 国際交流助成受領者による国際会議参加レポート
受領・参加者名

宋 海成
(Department of Quantum Science and Energy Engineering, Graduate School of Engineering, Tohoku University)

会議名

The 24th International Workshop on Electromagnetic Nondestructive Evaluation (ENDE 2019)
The 19th International Symposium on Applied Electromagnetics and Mechanics (ISEM 2019)
Short-term exchange program in Xi'an Jiaotong University

期日

2019年9月11日~26日

開催地

1. Chengdu, China
2. Nanjing, China
3. Xi'an, China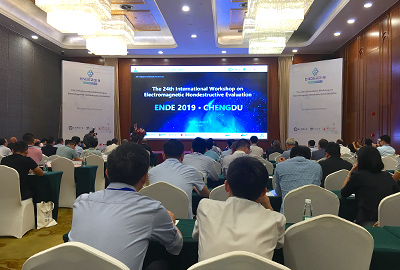 Conference venue of ENDE 2019
1. ENDE 2019
The 24th International Workshop on Electromagnetic Nondestructive Evaluation (ENDE 2019) was held in Longemont Hotel, Chengdu, China, from 11th to 14th, September, 2019, with the efforts of University of Electronics Science and Technology of China, Sichuan University and Southwest Jiaotong University. This conference aims at bringing researchers and engineers in communicating the contribution to the theoretical development and practical application of ENDE. There were more than 180 participants who made 2 keynote speeches, 4 invited talks, 89 posters and 35 oral presentations. In addition, the ENDE 2020 is scheduled to be held from 16th to 19th, June, 2020, in Budapest, Hungary.
2. ISEM 2019
The 19th International Symposium on Applied Electromagnetics and Mechanics (ISEM 2019) was held in Grand Metropark Hotel, Nanjing, China, from 15th to 18th, September, 2019, which was organized by Nanjing University of Aeronautics and Astronautics. This conference has been held every two years since 1995 and aims to promote the exchange on the experience, ideas and latest information on applied electromagnetics and mechanics among participants. In this conference, there were 3 plenary talks, 2 keynote talks, 149 oral presentations and 158 posters. The next conference, ISEM 2021, is planned to be held in Greece.
3. Short-term exchange program in Xi'an Jiaotong University
The short-term exchange program was provided by professor Zhenmao Chen of the State Key Laboratory for Strength and Vibration of Mechanical Structures, Xi'an Jiaotong Unversity, China. This program focuses on promoting the exchange among students on the research over non-destructive evaluation.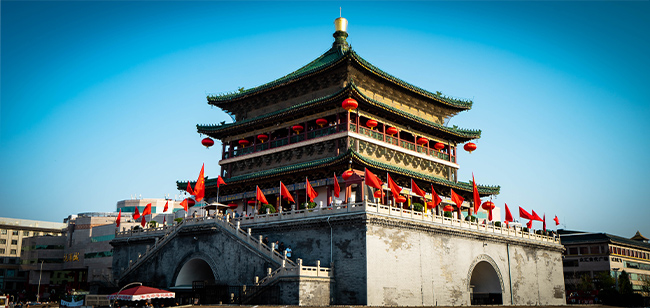 Xi'an
1. ENDE 2019
Title: Inverse Analysis for Local Wall Thinning Based on Multi-frequency Signal of Low Frequency Electromagnetic Monitoring Method
Content: Carbon steel pipes are widely applied in various industries to transport materials, and wall thinning induced by corrosion and/or erosion has been a major degradation in these pipes. In order to mitigate the potential rupture or leakage of pipes caused by wall thinning, it is imperative to detect and characterize such defects. This study aims to develop a method for estimating the size of local wall thinning in carbon steel pipes based on the multi-frequency signals of low frequency electromagnetic testing. A probabilistic machine learning algorithm was adopted in this study and a large number of training data was generated based on simulated signals after probabilistically calibrating the discrepancy between experimental signal features and simulated signal features. The capability of the trained model to estimate the defect size has been confirmed experimentally and the residual thickness of pipe wall can be estimated with small errors.
2. ISEM 2019
Title: Experimental Verification of Improved Probability of Detection Model Considering the Effect of Sensor's Location on Low Frequency Electromagnetic Monitoring Signals
Content: Structural health monitoring (SHM) is an effective method for maintaining the integrity of structures, its detection uncertainty caused by noise in inspection signals needs to be reasonably quantified for the risk analysis of structures. However, conventional method for the quantification does not consider the effect of sensor location, which is a decisive factors of detection uncertainty, thus, a novel model takes into account the effect of sensor location on signals was developed. This study aims to experimentally verify the effectiveness of the proposed model to quantify the detection capability of SHM methods. The results suggest that the proposed method is able to reflect the capability of SHM methods to detect defects correctly.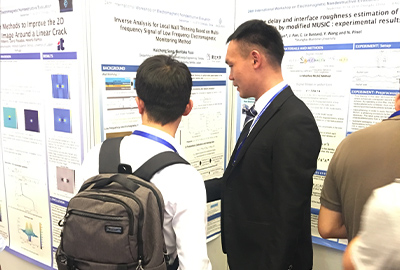 1. ENDE 2019
In ENDE 2019, a keynote speech delivered by professor Satish Udpa from Michigan State University, USA, attracted my attention, which stated the application of composite materials is recently prevalent in various industries and the performance can be considerably spoiled by the defects existing inside. Thus, effective methods are necessary to be developed to inspect the defects in such materials but there are many challenges, for instance, the anisotropic property of the material. Therefore, there is a long way to go for the development of non-destructive evaluation techniques.
My work was presented as a poster in this conference. During the 90 minutes of poster session, there were more than 10 attendees came to my poster and discussed with me over some problems. Some of them proposed informative comments which would be beneficial to my future study.
By looking through others' works and discussing with the authors in this conference, I also learned much knowledge that I was not familiar with, which widens my horizon significantly.
2. ISEM 2019
In ISEM 2019, professor Tomasz Chady from Poland explained the application of Artificial Intelligence (AI) techniques in the field of non-destructive evaluation (NDE), through which I learned AI plays an important role in many aspects of NDE, for example, features calculation and evaluation, data fusion on difference levels (signals, features, decision) and so on. His presentation inspired me to use AI techniques for more purposes in my study, say, the feature extraction from signals.
In this conference, I also presented my work by poster. When making the poster, I realized that a good poster requires not only attractive design and clear explanation but also innovative contents. During the poster session, several professors of NDE field showed their interest in my work and I was lucky to be awarded the "Best Poster Award".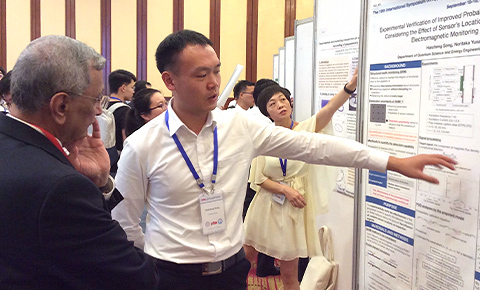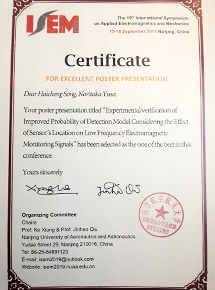 Herein, I want to express my sincere gratitude to Marabun Research Promotion Foundation for providing me with the financial support so that I can participate in both conferences and a short-term exchange program.

令和元年度 国際交流助成受領者一覧に戻る