平成28年度 国際交流助成受領者による国際会議参加レポート
受領・参加者名

曹 祥
(中部大学 工学研究科 応用化学専攻)

会議名

The 2016 E-MRS (European Materials Research Society) Spring Meeting

期日

2016年5月2日~6日

開催地

Lille Grand Palais, Lille, France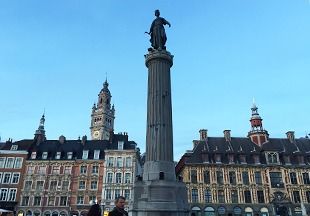 Grand Place, Lille city centre
The E-MRS Spring Meeting, Europe's largest materials conference, attracts active participants from more than 60 countries. Representing both quality and quantity, this audience comprises key decision-makers involved in the field of materials research: material growth and properties, the exploitation of new advanced processes, and the development of electronic devices. It is widely recognized as being of the highest international significance and is the greatest of its kind in Europe with about 2,500 attendees every year. This year, it was held in the fourth largest urban area in France, Lille, which locates in the north of France. This year's conference included 31 parallel symposia, 3 workshops & tutorials, one plenary session and one exhibition. The 2017 E-MRS Spring Meeting will be held in the extended and modernized Convention Centre of Strasbourg (France), from May 22 to 26, 2017.
I, as an attendee of the symposium N (Materials frontier for transparent advanced electronics II), have gave an oral presentation titled "Zinc Nitride as a Potential High-Mobility Transparent Conductor". In this presentation, we showed the related electrical and optical results of oxygen-containing zinc nitride films. We found that oxygen-doped films exhibited resistivities on the order of 10-4 Ω cm (metallic-like behavior) and bandgaps showed the values 2.5 ± 0.2 eV. We also pointed that if bandgap widening is achieved, this material can be a truly transparent conductor which consists of earth-abundant elements. It should be noted here, we firstly reported that oxygen can be regarded as an effective electron donor in zinc nitride. As a high mobility (~156 cm2V-1s-1) conductor/semiconductor, zinc nitride has been studied by some groups till now. However, the reasons for the high mobility of zinc nitride has not been revealed yet. In our oral presentation, we elucidated why zinc nitride has such high mobility. What's more, we also reported the effective masses of zinc nitride as a function of electron density for the first time all over the world, which impressed the experts attending the symposium.
I was so grateful and enjoyable to take part in the E-MRS 2016 Spring Meeting held in Lille, France. By this chance, I could heard some lectures and presentations gave by famous experts and scholars in this field, and I have learned a lot from their reports and known some forecasts of this material and related materials. After my presentation in symposium N, I have received some questions and comments about my work. I have also communicated with some experts and been told what I have done was an excellent job and ideas and logic should be well recognized to write an article, which can be published in a famous international journal: Physica status solidi (a). Communicating with the well-known experts and scholars has broaden my horizons and expanded my considerations of related materials and also played a significant role in my next research work. I am so honored, thrilled and appreciated that I have successfully got this chance supported by Marubun Research Promotion Foundation.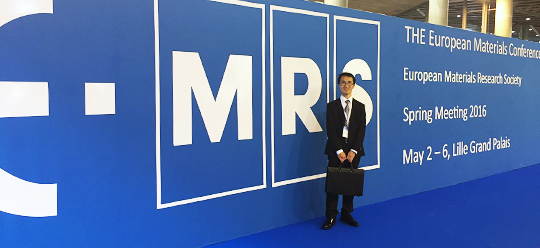 Photo of myself standing in front of the conference display board

平成28年度 国際交流助成受領者一覧に戻る